The Group Guide to LGBTQ+ Hotspots in San Diego
San Diego is home to a large LGBTQ+ community and is considered one of the queerest cities in the country. As LA's more relaxed counterpart, visiting San Diego is a great option for queer groups looking to have fun but without the hustle and bustle. If you're looking for queer-friendly things to do with your group of friends, community organization, or university club—keep on reading!
How to Travel
Planning a big trip can be a chore but San Diego Charter Bus Company can help groups travel easily to San Diego Pride, have a fun night out, or have a dining event for a special occasion. San Diego Charter Bus Company offers a wide variety of charter bus rentals and personalized transportation solutions for groups of all sizes. Simplify your Pride transportation with a spacious ride for your entire group and keep everyone traveling safely all night long with a built-in DD.
Call 619-209-7804 to reserve a comfortable charter bus rental in San Diego for your entire group!
Annual Events and Celebrations
You'll find a variety of small queer-centric events throughout the year but there are a few large happenings that occur annually around San Diego. Here are just a few events your group may want to attend: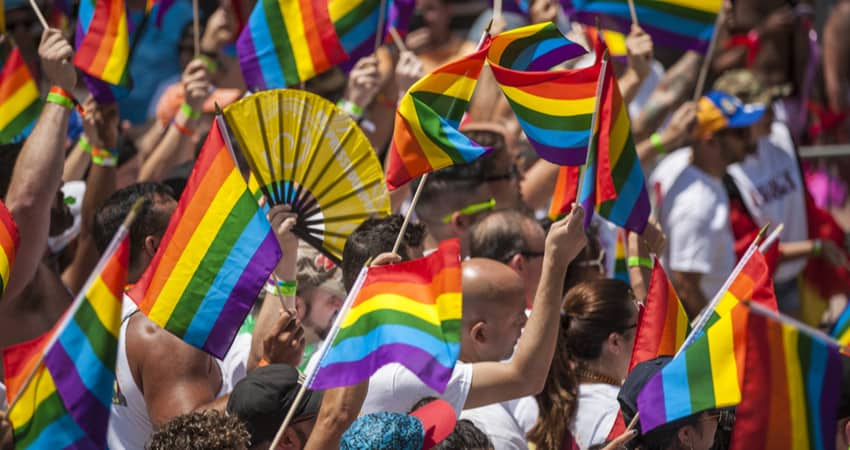 San Diego Pride
July
San Diego Pride is held every summer and attracts more than 200,000 each year. The annual festival includes a variety of events and programs to celebrate all members of the LGBTQ+ community. San Diego Pride includes dozens of events like the:
San Diego Pride Festival with live music from over 100 performers across 4 stages.
San Diego Pride Parade attracts over 250,000 attendees annually to celebrate San Diego's queer community.
Spirit of Stonewall Rally to honor the leaders and trailblazers of the historic Stonewall Riots of 1969.
Charter bus rental tip: Roads are often closed around the area for festivals and large events. If you're planning to travel by minibus or charter bus shuttle, just be sure to organize a pickup and dropoff plan that works for your group. Your San Diego Charter Bus Company rental rep can help you work out the logistics!
Hillcrest CityFest
August
Hillcrest is San Diego's resident gayborhood. You'll find a variety of events being held in Hillcrest throughout the year but CityFest is one of the biggest. This street fair is a celebration of San Deigo's historic queer community and includes local vendors, arts, crafts, live music, and plenty of food. Party it up under the iconic Hillcrest sign on University Avenue all night long.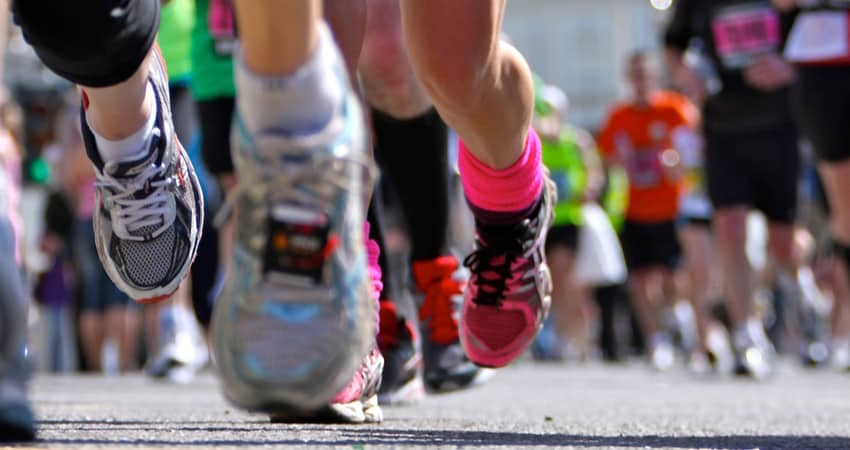 AIDS Walk & Run San Diego
September
Hosted by the San Diego LGBT Community Center, this annual walk and run is dedicated to giving back to the city's vital HIV services and prevention programs. It also serves to honor and remember those who have been lost to HIV/AIDS. This community-wide event is open to the public and kicks off at The Center and participants are welcome to run, walk, and enjoy fun activities along the route.
Charter bus rental tip: Fundraising teams planning to participate in the run can simplify arrival and check-in with a minibus or charter bus rental. Rather than waiting for everyone to park their cars, everyone will arrive together and on time to begin the race.
LGBTQ-Owned Restaurants in San Diego
There are quite a few queer-owned restaurants in San Diego to fit the tastes of every type of traveler and occasion. Whenever your group works up an appetite and needs a bit to eat, check out these restaurants:
Urban MO's Bar & Grill
Address: 308 University Ave, San Diego, CA 92103
Phone: (619) 491-0400
Although Urban MO's is a popular gay bar, it's also a full-service restaurant. It's the perfect place to go for great food, tasty drinks, and amazing music. You'll find a spacious dancefloor if you feel like dancing, indoor and outdoor bars for casual drinks, a spacious patio, and tables suitable for groups. MO's serves up breakfast, brunch, lunch, and dinner, and is open relatively late throughout the week for late-night bites. Be sure to check out their calendar to see what special events are being held (The Dreamgirls Revue is one of the most popular drag shows in the city!)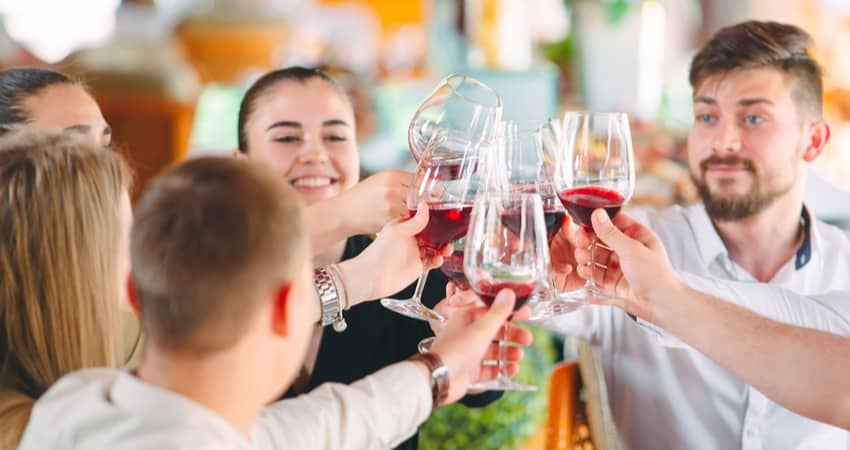 insideOUT
Address: 4404 Park Blvd suite a, San Diego, CA 92116
Phone: (619) 501-4440
insideOUT is actually operated by MO's but it's a completely different atmosphere from the lively University Avenue establishment. This tucked-away spot is where your group should dine if you want a casual yet elegant atmosphere and an upscale-feeling meal without breaking the bank. It's also a wonderful venue for a private event like a birthday celebration or happy hour. insideOUT serves up California- and Mediterranean-inspired fare, a wide selection of craft cocktails, and brunch on the weekends.
Charter bus rental parking tip:  insideOUT does not have a private parking lot but there's plenty of street parking on University Avenue, Center Street, and Harvey Milk Street. Your driver may have a hard time parking a full-size charter bus rental in the area but a minibus should be no problem.
Hillcrest Brewing Company
Address: 1458 University Ave, San Diego, CA 92103
Phone: (619) 269-4323
Looking for casual bites and brews? Check out Hillcrest Brewing Company. It's the first openly gay-owned brewery in the world. HIllcrest serves up classic pizza and wings with quirkily-named brews like the Banana Hammock Scotch Ale and Beer Head Blonde. The brewery also has a variety of guest beers and ciders from local and national breweries. The brewery also has a popular happy hour with slashed prices on pizza slices and drinks. (You can't beat cheap pizza and beer!) When you're in Hillcrest, you're sure to feel like family in this friendly neighborhood brewery.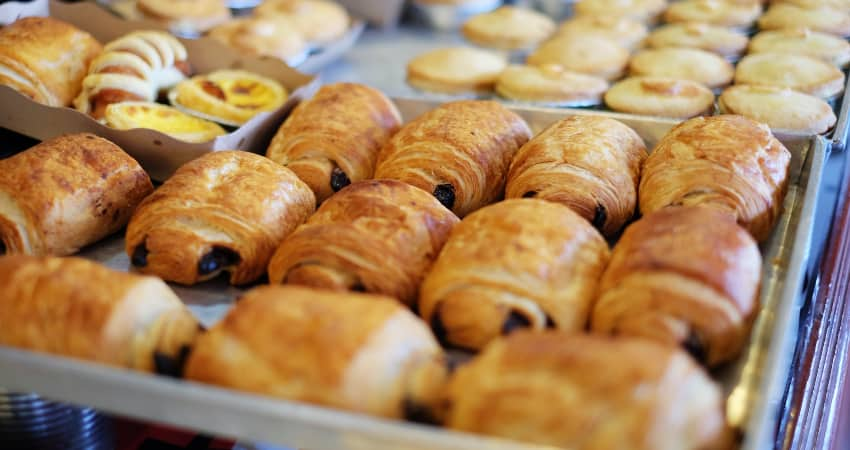 Pop Pie Co.
Address: 4404 Park Blvd suite a, San Diego, CA 92116
Phone:  (619) 501-4440
Pop Pie Co. is one of San Diego's most popular artisanal bakeries and it's also LGBTQ-owned. The sweet and savory baked goods are globally inspired by the flavors of different regions in Europe, Asia, and Australia. Some of the most popular savory items include classic chicken pot pies, steak ale pie, and Aussie meat pie. Want something for dessert instead? Try the salted caramel apple pie or key lime pie. The bakery also serves up a variety of coffee drinks to pair with their tasty sweet pies. Keep in mind that Pop Pie Co. is a counter service eatery and can be quite busy, so getting to-go food may be the best option for large groups.
Charter bus rental parking tip: This area of University Heights is quite busy and Pop Pie Co. does not have a private lot. If you're stopping by the bakery to grab some bites on the way to or from an event or destination, your driver may have to drop your group off and park on the street along Park Boulevard and Meade Avenue.
Queer Nightlife in San Diego
The queer nightlife scene in San Diego is bustling with vibrant dance clubs to laidback bars. If your group is looking for a safe space to enjoy the evening, here are a few of San Diego's popular queer nightlife spots:
The Hole in the Wall
Address: 2820 Lytton St, San Diego, CA 92110
Phone: (619) 996-9000
This Midway District mainstay is one of the city's first openly gay bars. The Hole in the Wall coins itself as San Diego's friendliest dive bar and is the perfect spot to have a relaxed round of drinks with friends. Sunday afternoons are usually the busiest time to visit because the bar offers pitcher drink specials. The bar also hosts karaoke nights and plenty of space inside s=and outside if your group wants to dance.
Charter bus rental tip: Booking a minibus rental will give your group the freedom to enjoy cocktail pitchers as much as you'd like. Have your charter bus driver drop everyone off at the bar before finding parking on a nearby street.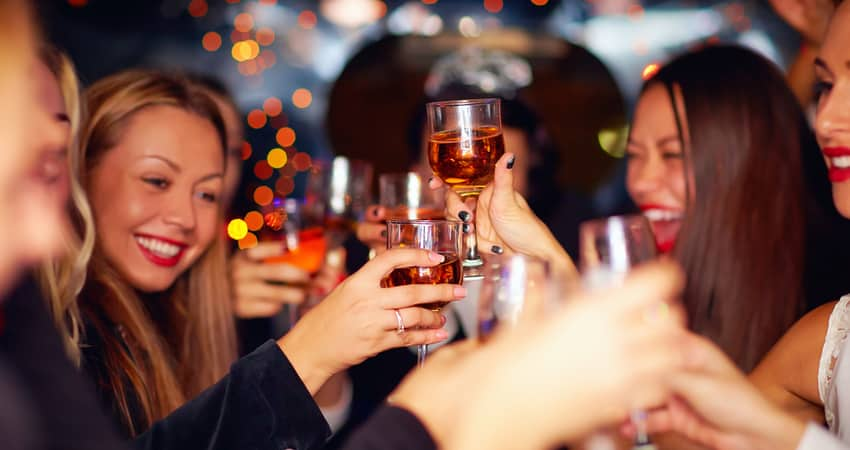 Gossip Grill
Address: 1220 University Ave, San Diego, CA 92103
Phone: (619) 260-8023
Hailed as San Diego's best women's bar, Gossip Grill has been one of the city's most popular lesbian bars since it opened in 2009. As the name suggests, Gossip Grill is a full-service restaurant (so, it's suitable for groups with visitors under 21) but it is also a fun late-night spot for drinks and dancing.  Order up some tasty comfort food, strong drinks, and dance the evening away with awesome live DJ music. Gossip Grill also hosts monthly events like drag brunch and dinner, boozy bingo, and drag king shows.
SRO Lounge
Address: 1807 Fifth Ave, San Diego, CA 92101
Phone: (619) 366-7038
If you're looking for a small yet inviting bar to spend time with friends, SRO Lounge is your place. SRO Lounge is a hidden gem right outside of Balboa Park and is known as a local nightlife safe space for San Diego's transgender community. The bar's crimson walls and glitzy chandeliers combined with its laid-back atmosphere make for a unique experience for every group looking for a queer nightlife spot in San Diego.
Charter bus rental tip: With many one-way roads, parking around SRO Lounge can be difficult. Once your group is dropped off at the bar, your bus driver can look for street parking on Elm Street, Fifth Avenue, or surrounding roads.
Visit San Diego's LGBTQ+ Hotspots with a Group
Whenever you're ready to book your group transportation, a San Diego Charter Bus Company rental rep will be available 24/7 to help at 619-209-7804. Travel on your own time in a private omnibus or charter bus to Pride Month events, nightlife happenings, and any other occasion out on the town in San Diego.
Do you need to rent a charter bus?