A History Buff's Guide to San Diego
Sunny San Diego is a treasure trove for groups of all kinds—but the city's long and storied history makes it an especially great place for history buffs! Whether you're touring the city on a class field trip or looking to impress your sightseers with the city's oldest structures, San Diego has plenty of historic places to fill your itinerary.
Not sure where to start? Never fear, because San Diego Charter Bus Company put together this guide to the city's top historic places to visit with a group. Keep reading to learn more: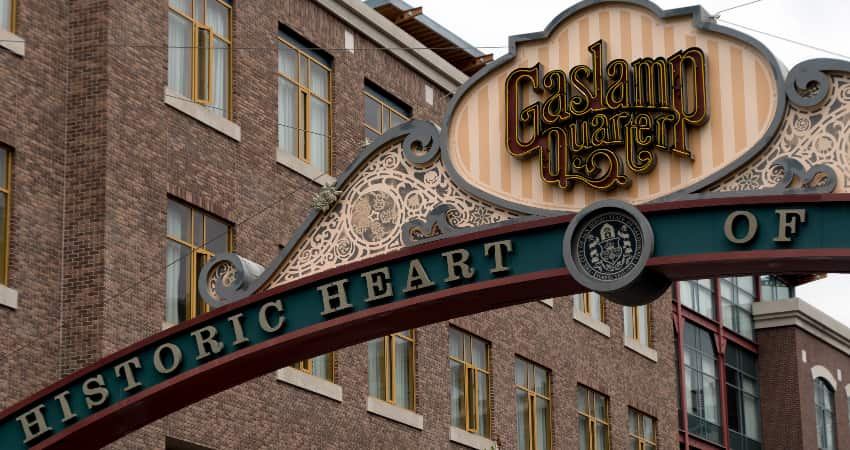 The Gaslamp Quarter
Address: 614 Fifth Ave, San Diego, CA 92101
Did you know that San Diego's premier nightlife district is also the oldest neighborhood in town? The Gaslamp Quarter is composed of 16 square blocks of clubs, lounges, and theatres, and one of the only places on the West Coast where you can see Victorian-era buildings and skyscrapers standing side-by-side.
There's a lot to see in this district, but most folks start their history tours at the Gaslamp Museum in the Davis-Horton House: the oldest still-standing structure in San Diego. Once the home of city developer and tycoon William Heath Davis in the 1850s, the house has seen much of the city's major historic moments, served as a county hospital for a few years during a flu outbreak, and is supposedly haunted!
Other Gaslamp Quarter highlights include:
Grand Horton Hotel—An ornate hotel dating back to 1887 that housed many visitors fresh off the newly constructed Intercontinental Railroad
Old City Hall—donning Florentine-Italianate architecture, this building once housed all of the city's governmental offices and is now a lively lunge come nightfall
San Diego Chinese Historical Museum—since 1966, this museum has celebrated Chinese culture and history both in Asia and throughout the West Coast
Charter Bus Parking Tip: If you're planning to start your tour at the Davis-Horton House, the nearby B Street Pier is likely your best bet for oversized vehicle parking. The parking lot here services the cruise ships that dock here, but when there are no cruises scheduled, the public lot offers 12 large spaces for $20 per 4 hours parked. On days when cruise ships are docked here, your charter bus driver may need to search for a street parking spot along the Pacific Highway.
USS Midway
Address: 910 N Harbor Dr, San Diego, CA 92101
This popular destination has been a favorite San Diego field trip location since it first opened to the public in 2004. Today this naval museum offers visitors a first-hand glimpse into the lives of wartime sailors and U.S. naval aviation history—but it used to be an active aircraft carrier throughout the Vietnam War!
General admission includes a self-guided audio tour narrated by former Midway sailors, leading you through over 60 locations within the ship—from the sleeping quarters to the galley, the brig to the flight control room. For an additional cost, visitors can even climb aboard historic aircraft or test their skills in a flight simulator.
Visiting with a group? The USS Midway Museum offers larger crowds the option to tour the facilities with a volunteer docent for a more personalized experience. Depending on the time slot you choose, the museum can accommodate up to 60 people on a given tour—so be sure to secure your headcount early to ensure your visit to this historic vessel runs smoothly.
Charter Bus Parking Tip: After dropping everyone off at the museum's ticket booth on Navy Pier, your charter bus driver can park in one of the metered spaces along Pacific Coast Highway. Spaces here have limited availability, but as long as you arrive early and your driver doesn't leave the vehicle unattended, they should be able to wait for you there until it's time for pickup.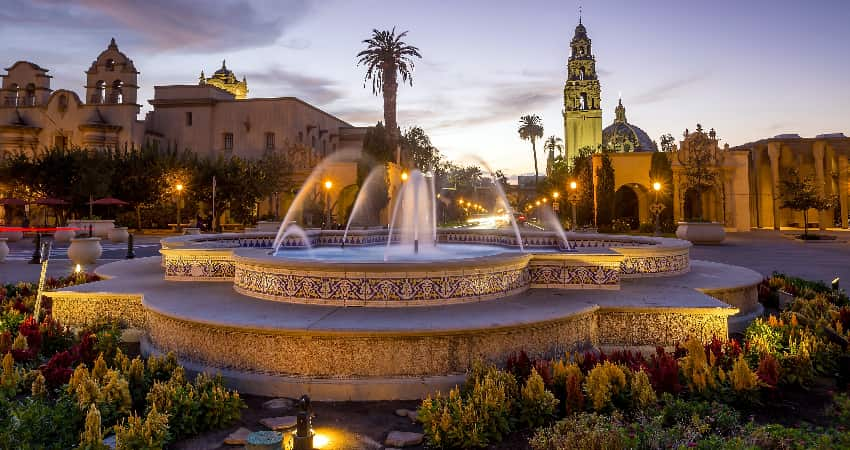 Balboa Park
While most visitors recognize this park for what it is today—a collection of gorgeous gardens and home to the infamous San Diego Zoo—this must-see tourist attraction for San Diego beginners has played an important role in the city's history for centuries.
Before its establishment as a city park, this spot was the site of a native Kumeyaay village. Even as white settlers moved into this space throughout the 1890s, the area remained an urban hub for Native Californians and Baja Californians in San Diego for work.
More famously, though, Balboa Park hosted both the 1915-16 Panama-California Exposition and 1935-36 California Pacific International Exposition—each showcasing eye-catching architecture you can see throughout the park today.
History buffs who want to make the most of Balboa Park shouldn't pass up the chance to see these structures built for the 1915 Exposition as temporary wood-and-plaster structures and have all since been reconstructed:
Casa de Balboa—houses the Balboa Art Conservation Center, Museum of Photographic Arts, San Diego History Center & Archives, and San Diego Model Railroad Museum
Casa del Prado—where you'll find the San Diego Botanical Foundation, San Diego Civic Youth Ballet, San Diego Floral Association, San Diego Junior Theater, and the San Diego Youth Symphony
House of Charm—home to the Mingei International Museum and San Diego Art Institute
Cabrillo National Monument
Address: 1800 Cabrillo Memorial Dr, San Diego, CA 92106
At the southern tip of the Point Loma Peninsula, you'll find Monumento Nacional Cabrillo—otherwise known as the Cabrillo National Monument. This area marks the first time Europeans set foot on the West Coast—a feat accomplished by Juan Rodríguez Cabrillo at San Diego Bay on September 28, 1542.
Even if your group isn't interested in the history of colonization, Cabrillo National Monument is a great place to enjoy scenic views of the San Diego harbor and skyline—on clear days, you can even see out to Tijuana, Mexico!
Other historic sites within the park include the Old Point Loma Lighthouse (first constructed in 1855 and now housing a museum) and the cliffs of Point Loma, which served as launch points for historic gliders and aviators like William Hawley Bowlus and Charles Lindbergh.
Charter Bus Parking Tip: To visit Cabrillo National Monument on a motorcoach, every vehicle will need to purchase a pass upon entering. The park offers plenty of parking for oversized vehicles at the visitor center and near the Old Point Loma Light House.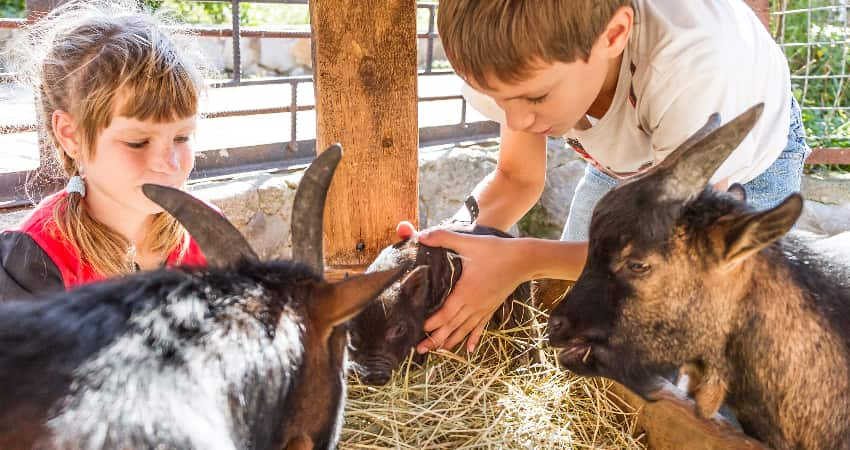 Old Town Market and State Historic Park
Address: 4010 Twiggs St, San Diego, CA 92110
It's one thing to walk around old structures or see artifacts in a museum—it's another thing entirely to see history walk around and talk to you! Since the late 1960s, this park near the heart of downtown San Diego has preserved some of the city's oldest buildings and provided visitors with living history exhibits depicting life in the American West. Here, your group can talk with experienced interpreters dressed in period garb and learn about aspects of San Diego's early history between 1820 and 1870, as it transitioned from Mexican to U.S. rule.
General admission to the Old Town State Historic Park and the individual buildings and museums within it is free to the public—though you can sign up for a guided tour for a small fee. Between exhibits, make sure to stop and check out the handicraft booths for handmade souvenirs, the picnic areas for al fresco lunch options, and geocaching stashes hidden throughout the park.
Charter Bus Parking Tip: Have your charter bus driver unload the bus at the Old Town Station or in the designated unloading zone along Congress Street. From there, your driver can park anywhere along the Pacific Coast Highway, past the Taylor Street intersection.
Kick off Your San Diego History Tour in a Bus Rental
Ready to start your history tour through San Diego? Once you've got a headcount, an itinerary, and a list of must-have comforts in mind, give San Diego Charter Bus Company a call at 619-209-7804 to plan easy transport to and from each historic destination. We specialize in personalize transportation plans for groups of all shapes and sizes—so whether you need a single minibus or a fleet of full-size charter buses, we'll connect you to the perfect ride!
Get in touch today to receive a free, no-obligation quote tailored to your San Diego charter bus rental needs.
Do you need to rent a charter bus?