Best Group Outdoor Destinations in San Diego
With its year-round pristine weather, San Diego is an outdoor lovers' dream destination. Groups of visitors planning a private group tour or locals having a company team-building day will have access to everything from waterfront hikes to scenic garden trials.
Wherever your outdoor travels take you, San Diego Charter Bus Company can help you get there. Forget about maneuvering multiple vehicles in packed parking lots or needing to track down your friends, family, or colleagues if they've parked in a different location. Book a minibus or charter bus rental service for a spacious ride with a professional driver behind the wheel. After a long day of hitting the trails of learning about San Diego's natural landscape on a field trip, everyone can relax on a climate-controlled bus in plush seating. Charter buses can also come equipped with features like WiFi and flatscreen TVs to keep kids entertained during longer rides to educational trip destinations.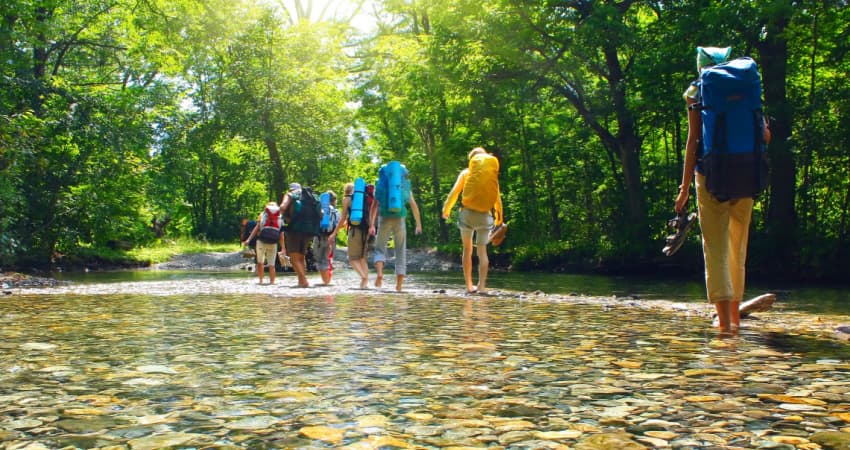 If a charter bus rental sounds like the right upgrade for your next trip, you'll just need to contact the helpful San Diego Charter Bus Company team. Call 619-209-7804 to learn more about San Diego charter bus rental pricing and to get a free quote!
Now, let's hop into some of the best outdoor destinations in San Diego for your next trip!
Balboa Park
Address: 1549 El Prado San Diego, CA 9210
Phone:  (619) 239-0512
Balboa Park is San Diego's most famous green space and is one of the best locations to enjoy a sunny day outdoors. This urban cultural park is a prime spot for casual strolls, picnics, and even educational trips. Balboa has more than 1,200 acres filled with pristine gardens, museums, and historic buildings, and it is home to the iconic San Diego Zoo.
Groups interested in taking a stroll through gorgeous gardens will have over a dozen locations to explore. The Inez Grant Parker Memorial Rose Garden houses more than 1,600 roses while the Kate O. Sessions Cactus Garden is home to a wide selection of native and exotic desert flora.
The park also has a network of easily paved walking trails for groups looking to break a sweat while seeing park highlights. Unpaved and more challenging trails will take you through natural areas like Florida Canyon and Morley Field.
Charter bus rental tip: Designated bus parking can be found at the Inspiration Point parking lot closest to the Veterans Museum.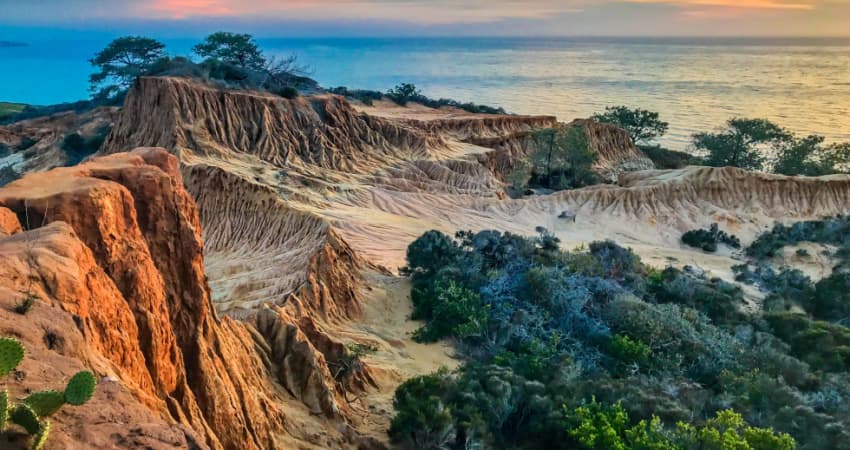 Torrey Pines State Natural Reserve
Address: 12600 N Torrey Pines Rd, La Jolla, CA 92037
Phone: (858) 755-2063
Looking for hiking opportunities with breathtaking views of the ocean? Check out Torrey Pines State Natural Reserve! It's a popular location for outdoor enthusiasts who want to pair hiking with sunbathing or enjoying a full-blown beach day. Enjoy a relatively easy 2.3-mile loop trail to the beach or opt for more moderately difficult hikes like the 1.3-mile Broken Hill Trail to scenic water overlooks. Be sure to approach trails and cliff overlooks with caution, as rock slides and collapses are possible!
This coastal park is named for the critically endangered Torrey pine tree and is a wonderful location to discuss conservation with educational groups. The reserve offers docent-led and self-guided programs for school groups, scout troops, and senior groups.
Charter bus rental tip: Entrance fees will be based on the capacity of your charter bus rental. Admission for groups traveling in a minibus with up to 24 people will cost $50. Buses with more than 25 people will need to contact the reserve before visiting and pay a $100 entrance fee.
Los Peñasquitos Canyon Preserve
Address: 12020 Black Mountain Rd, San Diego, CA 92129
Phone: (619) 525-8213
Visitors can explore more than 3,500 acres of hiking trails in San Diego's Peñasquitos & Lopez canyons at this urban nature preserve The preserve is filled with easy walking trails with many tree-shaded options to stay comfortable during the scorching summer heat. Most trails on the preserve are relatively flat and suited for visitors of all experience levels. Hike the 6.8-mile Los Peñasquitos Canyon to a small yet beautiful waterfall and river or opt for shooter options like hiking the 2.6 miles from Park Village to Peñasquitos Falls.
Park rangers offer interpretive walks and tours by reservation. Contact the park rangers at (858) 538-8066 or (858) 484-7504 to inquire about events and tour options at Los Peñasquitos Canyon.
Charter bus rental tip: Entrance fees are $3 per car. Groups traveling in a charter bus rental should inquire about group entrance fees and bus parking.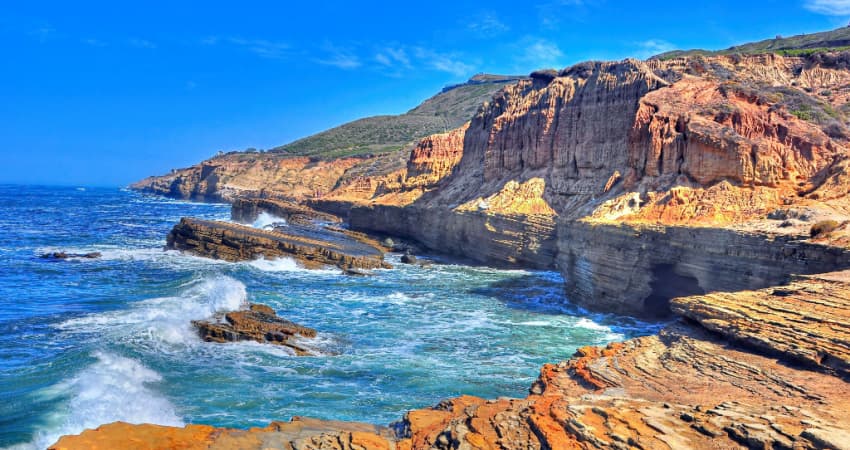 Cabrillo National Monument
Address: 1800 Cabrillo Memorial Dr, San Diego, CA 92106
Phone:  (619) 523-4285
Located at the southernmost tip of San Diego's Point Loma Peninsula, the Cabrillo National Monument commemorates Juan Rodríguez Cabrillo's 1542  landing in the Bay Area. The monument has picturesque oceanfront trails, tide pools teeming with wildlife, whale-watching opportunities, and access to a historic lighthouse.
The monument has 2 relatively short and easy trails that take visitors along the bayside or oceanside of the peninsula. During the winter months, visitors can access the tide pools at the bottom of the monument's cliffs. You may see native wildlife like barnacles and hermit crabs or even see gray whales migrating off the coast. On a clear day, views from Point Loma can even stretch as far as Tijuana and the Coronado Islands.
The Cabrillo National Monument Visitor Center has educational resources like films and activities packed for groups traveling with kids. You'll learn about Juan Rodriguez Cabrillo's voyage, landing in the San Diego Bay area, and the history of the Old Point Loma Lighthouse. Depending on the day, you may even get a glimpse inside the Old Point Loma Lighthouse that was first lit in 1855.
Charter bus rental tip: Entrance fees for organized, non-commercial groups traveling in a charter bus rental will vary depending on vehicle capacity. Vehicles with more than 17 seats (which includes most models of minibus and charter bus rental) will be charged $10 per person. Fess will not exceed $100 per vehicle for non-commercial travel groups.
Mission Trails Regional Park
Address: 1 Father Junipero Serra Trail, San Diego, CA 92119
Phone: (619) 668-3281
Mission Trails Regional Park is the largest municipally owned park in California and has nearly 7,000 acres of natural and developed landscapes for outdoor lovers to explore. This urban park has almost 65 miles of trails popular for mountain biking, hiking, and rock climbing. Many of the trails at this park are moderately difficult and best suited for hikers with a little experience under their belts. The 3-mile Cowles Mountain Trail is one of the most popular hikes in San Diego and is a must for scenic views of the mountain. Visitors looking for easy hikes should opt for options like the 2.6-mile Father Junipero Serra Trail in the Mission Gorge region of the park. Are you a group of seasoned hikers looking for a challenge? Consider hiking to the Cowles Mountain summit from Big Rock Park, you're sure to break a sweat over the 2.5-mile hike.
Before hitting the trials, be sure to stop at the Mission Trails Visitor Center. The visitor center will offer helpful resources for your visit alongside stunning views of Mission Gorge. All nature walks and ranger-led programs will embark from the visitor center. Nature walks are free of charge and are usually held on weekend mornings. If you're interested in booking a ranger-led program or your educational group, you'll need to book at least two weeks in advance.
Charter bus rental tip: Large groups traveling for education programs can reserve charter bus parking when reserving their trip with the park. Other non-commercial travel groups should call in advance to inquire about bus parking at locations throughout the park.
Travel to San Diego's Best Parks with a Group
Make your next group hike, scout trip, or outdoor educational outing with a private charter bus rental. The San Diego Charter Bus Company will book your group the right transportation for a comfortable and easy trip in the great outdoors. The rental team is available around the clock at 619-209-7804 to answer all of your questions about booking a San Diego charter bus.
Do you need to rent a charter bus?