Group Travel Guide to Arts & Culture in San Diego
Are you planning a trip to San Diego with a group of art lovers? Good thing there are plenty of art museums, performance centers, and cultural events to enjoy here! America's Finest City is home to top-rated art centers and hosts some of the West Coast's most popular festivals.
Whether you're planning a private art tour or organizing a field trip for your local school, San Diego Charter Bus Company can keep your day running according to schedule. Reserve a private minibus or charter bus rental with climate controls, reclining seats, WiFi, and power outlets to make the ride as comfortable as possible. Just call 619-209-7804 with your group's itinerary, and a San Diego Charter Bus Company rep will build a free, personalized quote for you!
COVID-19 Safety
As the COVID-19 crisis continues, many museums are temporarily closed and limiting capacity. Many major events and performances have also been canceled. It's highly recommended to hold off on organizing large group trips until it is safe to travel.
Art Museums
Most of San Diego's most popular art museums are located in famed Balboa Park. This makes it easy to spend a day hopping between museums. You may also want to consider visiting Balboa Park on Free Days, when many attractions offer waived admission.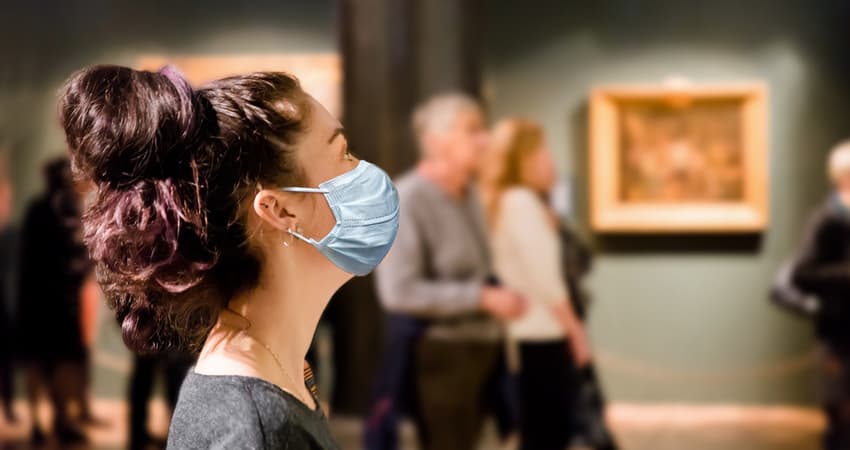 San Diego Museum of Art
Address: 1450 El Prado, San Diego, California 92102
Phone: (619) 232-7931
The San Diego Museum of Art is the largest and oldest fine arts museum in southern California, and a top field trip location in San Diego. The museum's collection includes over 20,000 objects from around the world spanning more than 7,000 years of history. In the permanent collection exhibitions, you'll find a wide selection of religious artifacts from South and East Asia, a variety of work from European old masters like El Greco and Rembrandt, and contemporary pieces from American artists like Georgia O'Keeffe and Alice Neel.
Timken Museum of Art
Address: 1500 El Prado Balboa Park, San Diego, CA 92101
Phone: (619) 239-5548
Although the Timken Museum of Art is much smaller than the San Diego Museum of Art, it's well worth a stop for anyone interested in European art. This hidden gem includes a small yet impressive collection of works from Russian, French, Dutch/Flemish, Italian, Spanish, and American artists. Highlights include a unique selection of 15th and 16th-century Russian iconography, paintings from old masters Rembrandt and van Dyck, and woven work from French illustrator Antoine Caron.
Mingei Museum of Art
Address: 1439 El Prado, San Diego, CA 92101
Phone: (619) 239-0003
Mingei means "the art of the people" in Japanese and is a fitting name for this Balboa Park folk art museum. The Mingei Museum of Art has around 17,500 objects and artifacts from around the world. Rather than exhibiting formal work that we often see in museums, Mingei's collections focus on art that reflects daily life. This includes objects like traditional garments, jewelry, ceramics, and quilts. You'll learn about everything from the traditional dresses handmade by the Tarahumara women of Mexico to the intricate beaded jewelry crafted by the Samburu people of Kenya.
Museum of Photographic Arts (MoPA)
Address: 1649 El Prado, San Diego, CA 92101
Phone: (619) 238-7559
MoPA is one of only three museums in the United States solely dedicated to photography, film, and video. The museum has more than 7,000 images that illustrate different photography techniques, styles, and genres throughout history. Interactive exhibits cover topics like photojournalism, social documentary, expedition photography, and the evolution of photography techniques over time. Depending on when you visit, the museum screens films and holds lectures in its auditorium. The museum also has a private photo library that you can view by appointment.
Charter bus rental parking tip: Balboa Park is usually very busy, so finding parking can be difficult during certain times of the year. Public lots are available throughout the park, and bus parking can be found just south of Inspiration Point near the Veterans Museum & Memorial Center.
Performing Arts Centers
San Diego has a thriving performing arts scene with several historic venues that host a variety of events. Enjoy a theater performance, dance show, concert, or improv comedy event at one of these venues: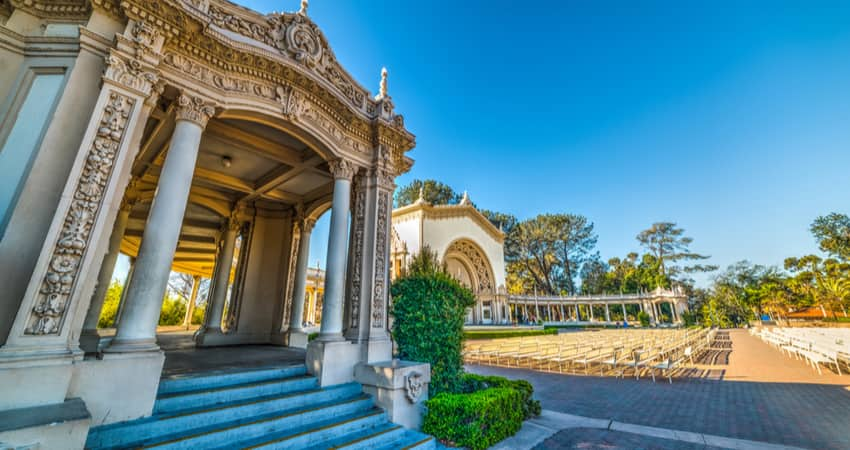 Spreckels Organ Pavilion
Address: 2125 Pan American Rd E, San Diego, CA 92101
Phone: (619) 702-8138
The Spreckels Organ Pavilion was constructed for the 1915 Panama-California Exposition and is home to the world's largest fully outdoor pipe organ. Free concerts performed by the city's Civic Organist are open to the public every Sunday at 2:00 pm. During July and August, the Spreckels Organ Society hosts weekly concerts during the International Summer Organ Festival.
Charter bus rental parking tip: The organ pavilion is located in the heart of Balboa Park right next to the Japanese Friendship Garden. Hop on over to the pavilion after your museum visits so your driver won't have to move your bus from the Inspiration Point lot.
The Old Globe
Address: 1363 Old Globe Way, San Diego, CA 92101
Phone: (619) 234-5623
The Old Globe theater was built in 1935 for the California Pacific International Exposition and is modeled after the Globe in London. It originally served as a performance space for abridged visions of Shakespeare's plays during the exposition. Today, the historic theater is one of the oldest operating performance centers in the city and houses the Tony-award-winning Old Globe Theater Company. Tickets for shows can be purchased online, and groups of 10 or more may qualify for discounts.
Charter bus rental parking tip: The theater is located on the far west side of Balboa Park and is quite far from the Inspiration Point bus parking area. Organize drop-off and pick-up with your driver on El Prado Road near the theater.
Balboa Theater
Address: 868 Fourth Ave, San Diego, CA 92101
Phone: (619) 570-1100
As a staple on our Beginner's Guide to Visiting San Diego, the Balboa Theater is an essential must-see in the city. It opened in 1924 as Downtown San Diego's first movie palace built for both film presentations and vaudeville performances. As the popularity of grand movie palaces dwindled in the 1950s, ownership of Balboa Theater changed several times and the historic Mission/Spanish Revival-style building was repurposed. After major renovations, the theater reopened in 2009 as a space for foreign and indie film screenings as well as performing arts events. Check out the Cinema SF website to see what's showing and grab tickets!
Charter bus rental parking: Most parking in the area is located in the Spreckels Garage or the  Horton Plaza Parking Garage. Unfortunately, these garages cannot accommodate oversize vehicles like charter buses, so you'll need to reserve parking at a nearby lot.
La Jolla Playhouse
Address: 2910 La Jolla Village Dr, La Jolla, CA 92037
Phone:  (858) 550-1010
If you're looking for an intimate and charming theatre to enjoy a spectacular performance, the famed La Jolla Playhouse is the perfect place for your group. Located on the University of California San Diego campus, the La Jolla Playhouse has offered top-quality performances to the San Diego community since 1947. Many plays that regionally premiered at the playhouse have gone to Broadway and won Tony Awards, like 700 Days and I Am My Own Wife. Depending on the show, groups of 10 or more can get 10% to 35% off of tickets. The playhouse also has a selection of educational programs and workshops for schools and community organizations.
Charter bus rental parking: Similar to parking on other college campuses, parking around UC San Diego can be exceptionally difficult. During show times, parking attendants will be available to help you park, but if you're traveling by charter bus, you'll need to organize parking ahead of time with the playhouse.
Major Festivals and Events
You'll find that San Diego's arts scene is bustling year round, but spring and summer are the best seasons to experience major arts and culture events.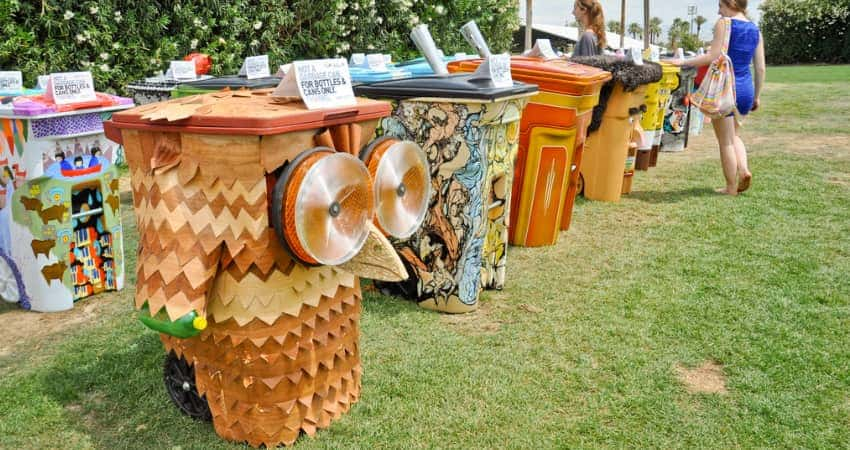 Coachella Valley Music and Arts Festival
April
Coachella is the music festival of all music festivals on the west coast. Each year, more than 250,000 attendees flock to Indio, California (around 2.5 hours from San Diego) to enjoy music, interactive art installations, and parties. Past performers include big names like Beyonce, Daft Punk, and AC/DC, and past art installations have been provided by creatives like collective Poetic Kinetics and robotics artist Christian Ristow. If you need a bus rental from San Diego to Indio for your festival group, San Diego Charter Bus Company has you covered.
Artwalk San Diego
April, August, and September
ArtWalk started in 1984 as San Diego's first fine arts festival.  ArtWalk's organizers began the event to give local artists a space to showcase their work and to make art collecting accessible to the community. The fine arts show happens three times a year in the Little Italy neighborhood of San Diego and also has additional events in Carlsbad and Liberty Station.
San Diego Pride Parade and Festival
July
San Diego Pride is one of the largest LGBTQ+ pride events in the region. Along with being a major event to celebrate San Diego's LGBTQ+ community, the Pride Festival also provides a space for queer entertainers and artists to showcase their work. Enjoy vibrant musical performances and interactive art exhibitions, or support local businesses and community organizations at festival booths.
San Diego Comic-Con
July
San Diego Comic-Con is the largest comic book and pop culture festival in the world. The multigenre event attracts thousands of comic and film enthusiasts from around the world. With such large crowds, traveling for groups during Comic-Con may be difficult. Comic-Con does offer shuttle services to attendees, but these usually stop running at specific times. With a private bus rental, you won't have to worry about being stranded.
Experience San Diego's Art and Culture Scene with a Charter Bus
Whenever you're ready to book your bus rental, a San Diego Charter Bus Company rental rep will be available to help you! Call 619-209-7804 with any questions and we'll be happy to get your group transportation sorted.
Do you need to rent a charter bus?