A Weekend Trip of Hidden Gems: Charter a Bus From San Diego to Las Vegas, Los Angeles, and Beyond
If you're a San Diego local, you've probably already had your fill of days at Balboa Park's museums or afternoons at the San Diego Zoo or Mission Beach. Don't get us wrong, San Diego is sunny, beautiful, and filled with plenty of popular attractions to see and enjoy. But what if you just want a change a scenery?
Plan a weekend trip to new places! Spend a few days exploring San Diego's nearby hidden gems in Encinitas and La Jolla, or even head out of town to LA, Las Vegas, or Phoenix.
There's no better way to explore the southwestern landscape than with a group of friends, family members, or even some work colleagues who also need a good break from the day-to-day hustle.
San Diego Charter Bus Company has the perfect weekend transportation solution for groups of all sizes, traveling for anything ranging from fun girls' trips to unique bachelor parties and family reunions. Grab your loved ones, book your San Diego charter bus and hop on over to these nearby destinations for fun weekend exploration.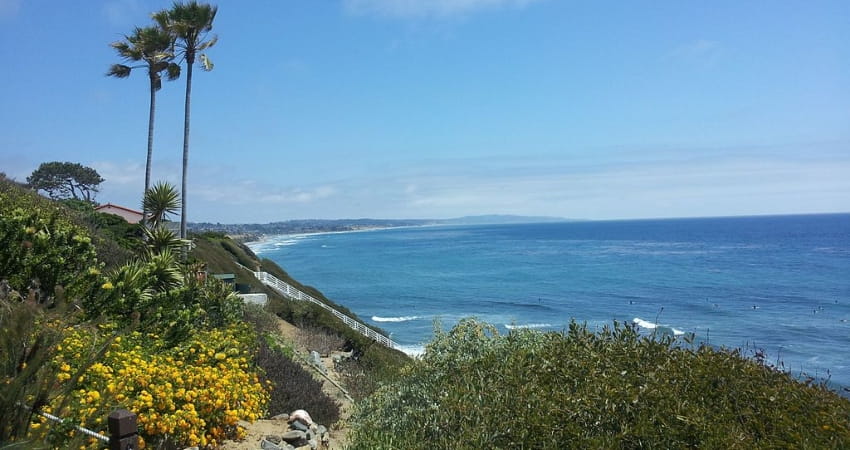 A Staycation Around San Diego
If you're a local, planning a trip around town to see San Diego's "deep cuts" and hidden gems will give you the opportunity to broaden your horizons. Out-of-town visitors looking for some unique locations to visit while on vacation won't be disappointed either.
Plan a private tour around some of San Diego's quirky attractions with your own charter bus or minibus. When planning your trip, be sure to add these San Diego hidden gems to your weekend (or even day trip) itinerary:
Self Realization Fellowship Hermitage & Meditation Gardens
Free. Nature. Serene. Beautiful views.
Address: 215 W K St, Encinitas, CA 92024-5040
Looking for some peace and quiet away from the bustling San Diego city center? Travel up to Encinitas to visit The Encinitas Temple's Meditation Gardens. Even if you aren't a follower of the Self-Realization Fellowship, the gardens are free and open to the public, offering beautiful koi ponds, meditation space, and lush greenery overlooking the Pacific Ocean.
Group travel tip: Groups are welcome to self-tour the grounds but keep in mind the gardens are focused on being a tranquil, quiet space. Admire the gardens with your group but keep talking to a minimum and opt to take photos, meditate, and embrace the natural landscape.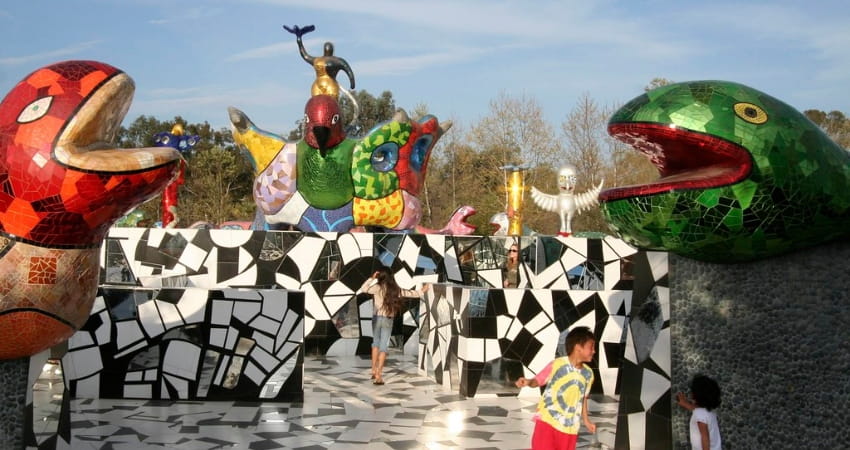 Queen Califia's Magical Circle
Free. Art. Eclectic. Colorful.
Address: 3333 Bear Valley Pkwy, Escondido, CA 92025
Located in Escondido's Kit Carson Park, Queen Califa's Magical Circle is q quirky sculpture garden developed by the late artists Niki de Saint Phille. The mosaic sculptures are made of hand-cut glass, tiles, and ceramic, illustrating the Franco-American artists' fictional characters like Queen Califia herself. The whimsical sculptures are a must-see for any group filled with art lovers.
Travel tip: Due to renovations and vandalism concerns, the sculpture garden has very limited hours. Check the City of Escondido's website for accurate times before planning your visit.
Spreckels Organ Pavilion
Free. Historic. Architecture. Live Music.
Address: 2125 Pan American Rd E, San Diego, CA 92101
Although the Spreckels Organ Pavilion is located in bustling Balboa Park, the beautiful space is often overshadowed by the park's many other attractions. The Spreckels Organ is an ornate and special piece of history, currently standing as the world's largest outdoor pipe organ at 75ft tall. Constructed in 1914, the organ has seen plenty of action with hundreds of concerts played throughout the years. Free concerts are open to the public every Sunday at 2pm and summer evenings every Monday at 7:30pm and 9:30pm.
San Diego to Los Angeles
Time: 2.5 hours, 125 miles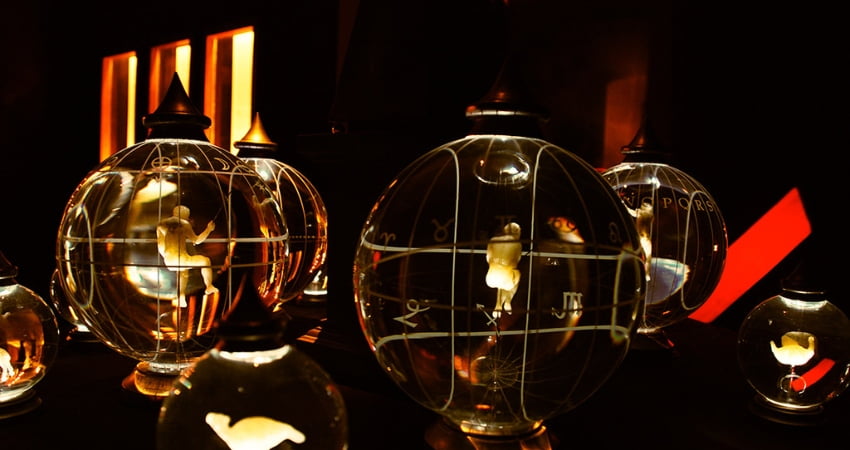 Los Angeles isn't all too far from San Diego and if you're a Cali local, there's a good chance you've already visited the packed metropolis for one reason or another. Between its many suburbs, smaller metro areas, and surrounding towns, Los Angeles has a laundry list of things to do, even for second-, third- or even fourth-time visitors.
Instead of doing the typical Hollywood Walk of Fame and Universal Studios visits, make a Los Angeles trip of locations off the beaten path for your group to enjoy over the weekend. Your charter bus will shuttle your group from San Diego to unique LA attractions, lodging, and restaurants.
The Museum of Jurassic Technology
$8. Mysterious. Offbeat. Bizarre.
Address: 9341 Venice Blvd, Culver City, CA 90232
This Culver City gem is a mystery even to many locals. With "Jurassic Technology" in the name, one may think the museum would be focused on dinosaurs and archaeology, right? Not quite. The museum has a collection of over 30 eclectic exhibitions ranging from microminiature sculptures to wacky pre-scientific medical cures. On top of strange exhibitions, the museum has a quaint rooftop garden along with complimentary tea and cookies in its second floor Russian tea room. Throw out your typical expectations of what museums are like and go in with an open mind.
Travel tip: This museum doesn't have its own parking lot. Have your personal charter bus driver drop your group off on Venice Boulevard before finding street parking nearby.
Griffith Observatory
Free. Stars. Space. Science.
Address: 2800 E Observatory Rd, Los Angeles, CA 90027
Alright, the Griffith Observatory isn't necessarily considered a "hidden gem," but the facility is definitely special and should be on everyone's list. The observatory's Tesla coil is indeed one of the hidden gems of Los Angeles. Where else can you witness the magnificent sparks and light shows of Tesla coil operating at high voltages? It's truly a one-of-a-kind experience that groups of all ages will enjoy. Stroll through the Wilder Hall of the Eye on the observatory's main level and learn about the Milky Way and California's landscape before moving on to the Tesla coil exhibit.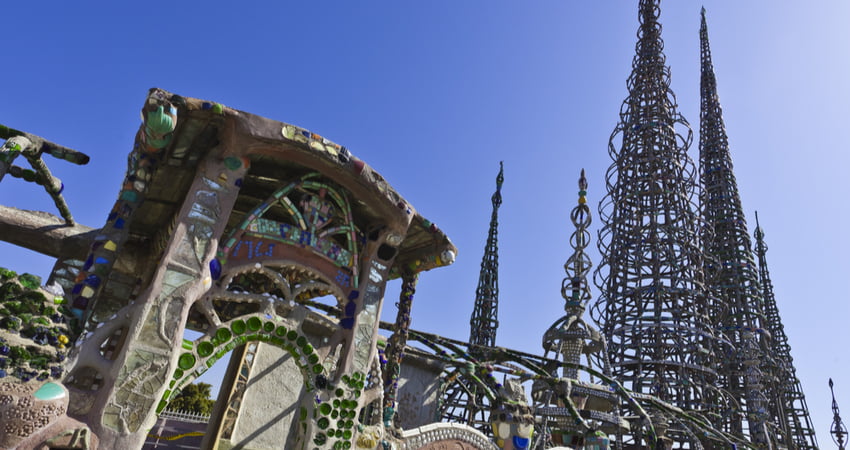 Watts Towers Arts Center
$3-$7. Folk Art. Historic. Off the beaten path.
Address: 1727 E 107th St, Los Angeles, CA 90002
First things first, Watts Tower isn't located in your quintessential Los Angeles tourist area. Watts Tower is off the beaten path near the Lynwood neighborhood of LA. Although it isn't necessarily a tourist-friendly neighborhood, Watts Tower is well worth an afternoon visit. The 99-foot ornate steel towers were built by Italian immigrant Simon Rodia over the span over 33 years between 1921 and 1954. The 17 steel towers are adorned with found objects like mosaic tiles, porcelain, glass, bottles, bed frames, and a slew of other items. The arts center is one of only nine folk art locations designated on the National Register of Historic Places. Rodia's 33-year commitment to Watts Towers became a testament to hard work and living the American dream.
San Diego to Las Vegas
Time: 5 hours, 332 miles
Traveling from San Diego to Las Vegas is a bit of a longer haul than just popping up to Los Angeles. When you're traveling with a group, it's especially important to have plenty of space for ultimate comfort for the 5 hour (sometimes 6 with traffic) drive. In your San Diego Charter Bus Company rental, you'll have plenty of legroom and storage space.
Las Vegas has all the popular glitz and glamour of casinos, luxury hotels, magnificent shows, and so much more. Those typical Vegas hotspots like the Bellagio Fountains and the Las Vegas Strip are fun, but they get packed to the gills quickly, especially during the peak travel season. Instead, add some of these unusual Vegas hidden gems.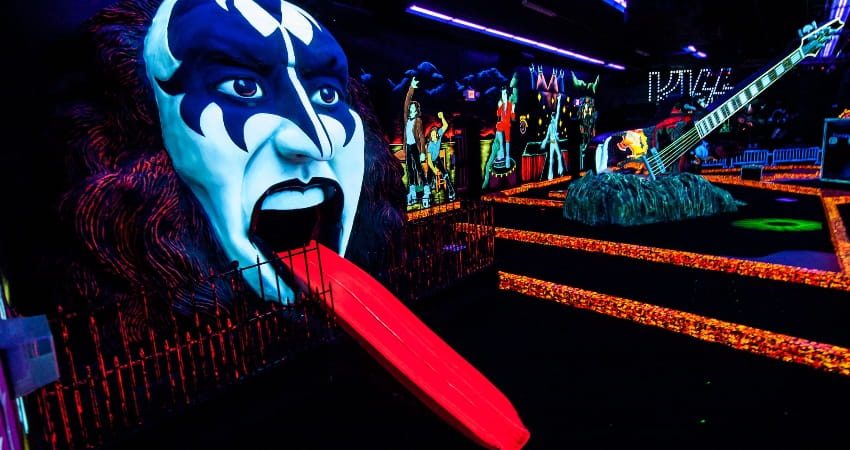 KISS by Monster Mini Golf
$12 a person. Fun. Flashy. All ages,
Address: Inside the Rio Hotel & Casino, 3700 W Flamingo Rd, Las Vegas, NV 89103
Las Vegas really has a little bit of everything, including a KISS-themed mini golf course! You don't even need to be a fan of the rockin' 70s band, but that'd definitely help you appreciate the extravagant golf decor. The small glow-in-the-dark course is illuminated by the wackiest decor, including massive guitars, iconic KISS items like Gene Simmons' boots, and so much more. The mini golf course also includes arcade games and event packages for corporate team-building, birthday parties, and other special events.
The Neon Museum and Neon Boneyard
$22+. Iconic. Vintage. Educational yet fun.
Address: 770 Las Vegas Blvd N, Las Vegas, NV 89101
Neon lights and signs are a calling card for all things Las Vegas. The Neon Museum focuses on the history, preservation, and education of Las Vegas' big and bright signs. The Neon Boneyard houses the museum's main collection of over 200 unrestored signs, as well as several operable, restored iconic signs. The true beauty of the museum comes in the evening with their light show Brilliant!. This 30-minute experience brings even the inoperable, unrestored signs back to life with a visual and audio show. Guided tours and combo packages with admission to Brilliant! Are available from $28 to $42 a visitor.
Group travel tip: Although $42 may be steep for large groups of visitors, spring for the combo tickets that include Brilliant! and the guided tour. You'll learn much more about the signs and their history.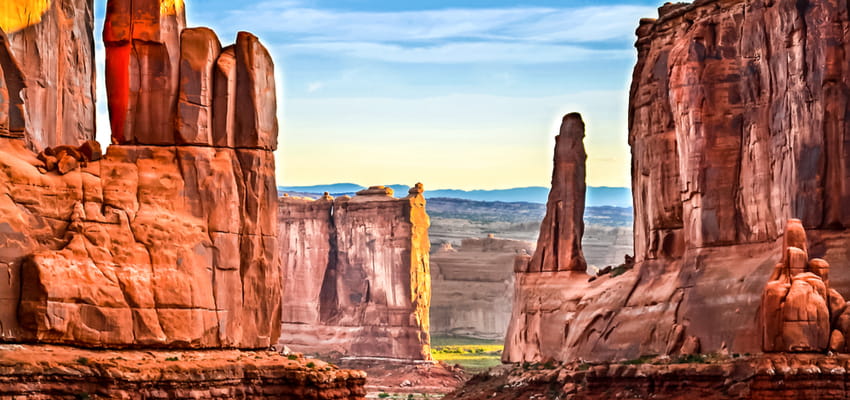 Red Rocks Canyon National Conservation Area
$15+. Outdoor recreation. Nature. Beautiful views.
Address: 1000 Scenic Loop Dr, Las Vegas, NV 89161
"Taking a walk on the wild side" may be a common phrase in Vegas' booming nightlife and gambling scene. Red Rocks Canyon will give a new meaning to Vegas' wild side. Many visitors may forget that Las Vegas is located among a breathtaking natural landscape and the Red Rocks Canyon Conservation Area is one of the best places to appreciate it. This natural wonder is nestled in the easternmost part of the Mojave Desert about 25 miles from the Las Vegas Strip. The conservation area has 27 trails, ranging in difficulty with plenty of trails being great for large groups of beginners. Pack plenty of water, sunscreen, and some snacks for the hike, or just hop on your charter bus and enjoy the 13-mile scenic drive in an air-conditioned cabin.
Group travel tip: Entrance fees are $15 per car while commercial vehicles like charter buses and rideshares are $15 plus an additional $5 per passenger. Be sure to plan these fees accordingly into your visit.
San Diego to Phoenix
Time: 5.5 hours, 355 miles
Renting a charter bus from San Diego to Phoenix isn't much further than the trek up to Las Vegas. Your group will stay comfortable on your spacious charter bus or minibus while your professional driver guides you to the Valley of the Sun. Book a few suites for your entire group at one of Phoenix's many resorts like the Arizona Biltmore or Marriott's Canyon Villas.
If you're looking for a full-on Arizona experience beyond the luxe resorts, opt to plan your group trip in towns like Flagstaff among the breathtaking natural landscape. Wherever you decide to travel in Phoenix and beyond, you'll have personal transportation to get you to and from your lodging to these interesting local attractions:
"Fireflies" at Phoenix Art Museum
$9-23. Immersive. Art. Must-see.
Address: 1625 N. Central Avenue Phoenix, AZ 85004
Going to the Phoenix Art Museum for one specific exhibition may seem excessive, but for something as stunning as Yayoi Kusama's Fireflies, it's well worth it. The exhibition, fully titled You Who Are Getting Obliterated in the Dancing Swarm of Fireflies is one of eight permanent installations of Kusama's famous Infinity Rooms in the world. Guests walk into a mirror-lined room adorned with thousands of twinkling lights resembling fireflies. Just short of Los Angeles, art lovers won't anything like Fireflies in the western United States. The Phoenix Art Museum has a diverse range of collections and exhibitions for guests to enjoy, ranging from Renaissance art to historic fashion pieces.
Group travel tip: The museum offers group sales for groups of 7 or more, including discounted self-tour options and docent-led private tours.
Meteor Crater Natural Landmark
$9-$18. Natural wonder. Impressive. Educational.
Address: Interstate 40, Exit 233, Winslow, AZ 86047 USA
This may just seem like a big hole in the ground and it totally is, but if you're a fan of space, history, and nature, you'll be more than intrigued here. Winslow is about 3 hours north of Phoenix and is well worth the extra drive, especially if you'll be cozy on a charter bus. Scientists speculate a meteorite touched down in what's now Winslow, Arizona about 50,0000 years ago at about 26,000 miles per hour. The impact left a massive crater measuring 160 feet in diameter and 560 feet deep. It is now among the largest impact craters in the United States and one of the most well-preserved in the world. Take a 1-hour guided tour of the crater's rim and learn about meteorites and asteroids at the landmark's discovery center.
Group travel tip: Groups of 15 or more can schedule a group visit at least two weeks in advance. These group visits include discounted admission and complimentary tours for your charter bus driver as well.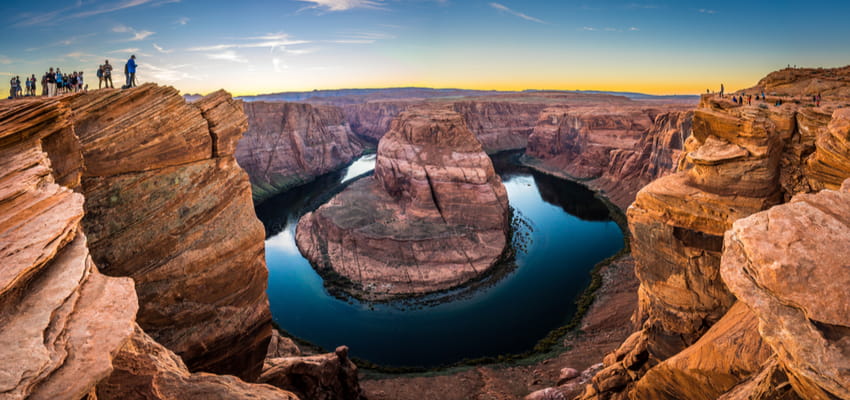 Horseshoe Bend
Entrance fees vary. Breathtaking. Natural wonder. Outdoor recreation.
Address: Mile Marker 545, Highway 89, Page, AZ 86040
Don't feel like taking on the crowds at the Grand Canyon? Horseshoe Bend is a stunning scenic spot that still draws quite a large crowd despite being a little sibling to the Grand Canyon. The iconic horseshoe-shaped river bend in the Colorado River is apart of the Glen Canyon in Page, Arizona. Page is located 4 hours north of Phoenix near the Utah-Arizona border. Accessing Horseshoe Bend may be a long trek for staying in Phoenix, so if exploring the beautiful red rocks is your priority, consider lodging in Page or Flagstaff for a night. Make sure everyone in your group packs cameras, plenty of water, and their best hiking shoes!
Make Your Group Trip from San Diego Easy and Simple
Whether you're planning a trip around the San Diego area or in one of the Southwest's neighboring major cities, San Diego Charter Bus Company has you covered for your entire trip. From weekend trips filled with new, interesting places to weeklong visits for a much-needed vacation, you'll have a reliable charter bus and team behind your transportation. Call us at 619-209-7804 for a free and personalized quote!
Do you need to rent a charter bus?