A Group Guide to San Diego Area Airports
If you're planning a long-distance trip to San Diego, you have two options: make a road trip out of it or fly into a local airport. Not all of us can road-trip into town from the Southwest's major cities, so it's helpful to know a little about the city's major airports before you start planning!
No matter which airport you pick, we at San Diego Charter Bus Company want you to have a stress-free ride to and from the terminal. A private airport shuttle service is one of the best ways to ensure a large group of flyers depart and arrive at the airport right on time. With everyone all in one motorcoach with a seasoned professional at the wheel, no one has to worry about scrambling to catch their flight because your ground transportation will run on a schedule you create! Your passengers can even keep up with flight information with free onboard WiFi, recharge their devices with individual power outlets, are securely store their luggage in undercarriage storage bays. Just let our 24/7 reservation team know what will set them up for success when you call 619-209-7804 to book your San Diego airport bus rental.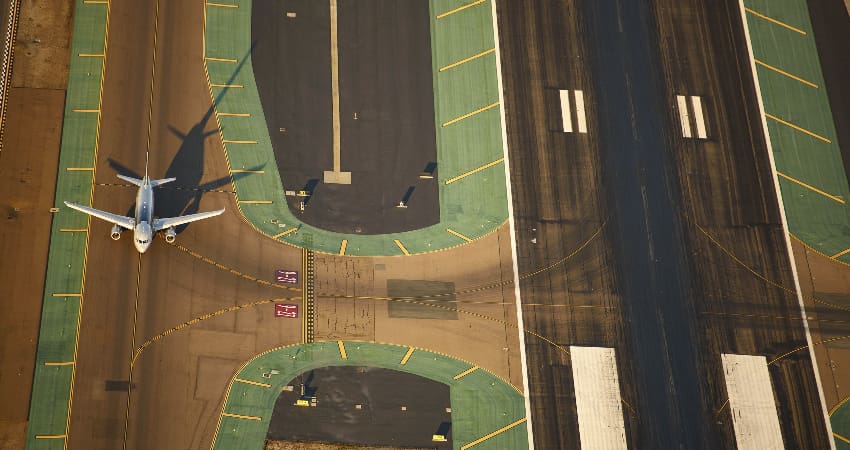 San Diego International Airport (SAN)
Address: 3225 N Harbor Dr, San Diego, CA 92101
As the name might imply, this airport is the primary one used for flyers entering and leaving San Diego. It's located a mere 3 miles from downtown—the Gaslamp Quarter's trolley service even makes a stop here.
While SAN does offer international flights (mostly to Canada, Mexico, Japan, and the UK), a majority of the arrivals and departures are domestic flights from Denver, Phoenix, Dallas, and Las Vegas. One perk of flying into this airport is its straightforward layout. The 51 gates are spread across just two terminals:
Terminal 1 — where most domestic airlines like Southwest, Spirit, and Allegiant Air depart.
Terminal 2 — where international carriers like Air Canada and Japan Air (as well as domestic airlines like Delta and United Air) are located.
Where to load/unload your charter bus
All rideshares, taxis, and private airport shuttles are expected to load and unload from the designated lane on Airport Terminal Road—directly outside both terminal entrances. If your group is flying into SAN, your charter bus driver can wait in the recently renovated cell phone lot until your flight arrival is confirmed.
What to do while you're there
For passengers' comfort, the San Diego International Airport is home to a variety of lounges, restaurants, and bars in both terminals. There's also free unlimited WiFi, so you can stream Netflix or a few podcasts while you enjoy a sit-down meal at Banker's Hill Bar & Restaurant or a grab-and-go bagel from Peet's Coffee.
The airport facility is open 24-hours, but departures only occur between 6:30 a.m. and 11:30 p.m. to mitigate noise pollution. All that's to say: if you're catching a red-eye flight, expect most food vendors and lounges to be closed—aside from the two 24/7 cafes before security and the 3 nursing rooms (two in Terminal 1, one in Terminal 2) after security.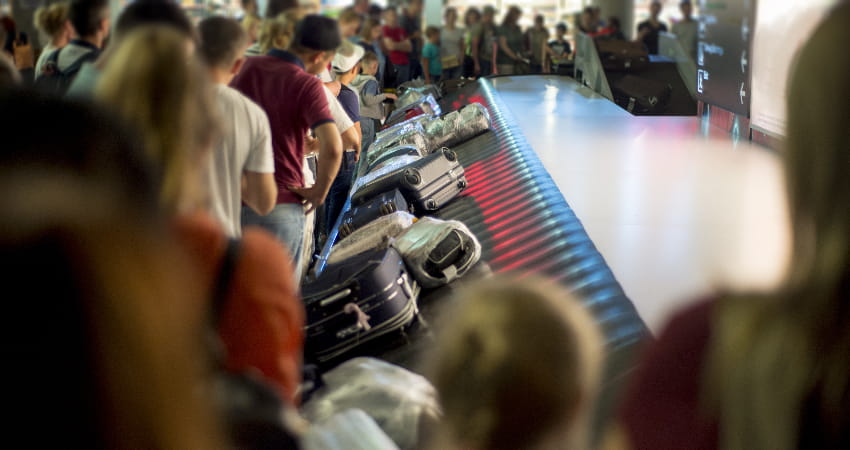 Tijuana International Airport (TIJ)
Address: Aeropuerto S/N, Nueva Tijuana, 22435 Tijuana, B.C., Mexico
Located directly south of the U.S. border, this airport in the Otay Centenario district is one of the most convenient ways to the San Diego area from Mexico. This is thanks to the Cross Border Xpress: a 390-foot pedestrian bridge that spans the border. Passengers flying in or out of TIJ can access it for $20 per person or cheaper if they purchase tickets in advance. Departing passengers may cross the bridge up to 24 hours prior to their flight, but arriving passengers only have two hours from the time they disembark their flight to cross the bridge into the U.S. That being said, many travelers consider this bridge much faster than other crossing stations in the city. So if your group is looking for easy international access to or from San Diego, flying into Tijuana International Airport might be your best option.
Tijuana's main terminal (Terminal 1) is composed of two concourses with a total of 23 gates, where all commercial flights arrive and depart. The most-used airlines that pass through TIJ are Volaris and Aeroméxico, but you can also take advantage of Magnicharters' and Vivaaerobus' seasonal services as well. The airport grounds also include an older terminal across the street that is now used by the Mexican military and a facility on the U.S. side of the border where immigration and customs procedures are handled.
Where to load/unload your charter bus
From the U.S. side of the border, your bus driver can pick up your group at the designated bus loading zone on Otay Pacific Drive, outside the Cross Border Xpress entrance.
What to do while you're there
At Terminal 1, passengers will find a lineup of takeout restaurants serving standard food court fare. Once you pass through security, you'll have access to money exchange offices and small shops filled with souvenirs and toiletries. This airport doesn't offer rest lounges, but you can take advantage of free WiFi while you wait for your flight. Just be sure to bring a blanket or a jacket—many flyers say the AC inside the terminal is crisp all year round!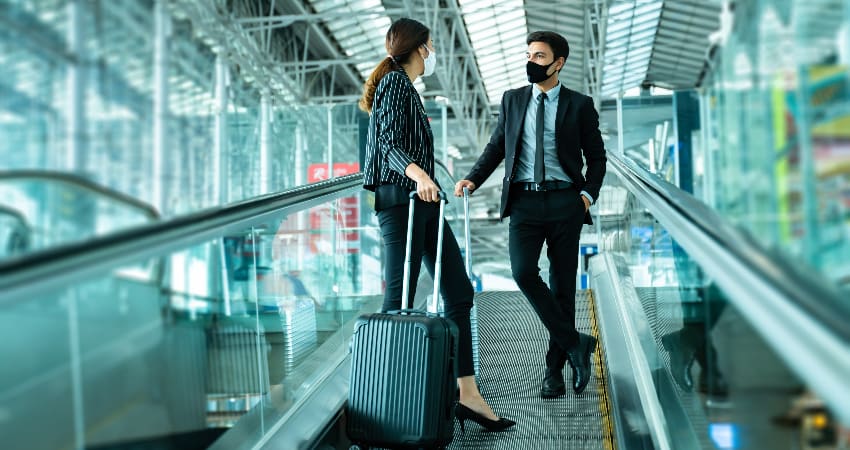 Ease Your San Diego Airport Transportation
Whenever you're ready, the San Diego Charter Bus Company reservation team can connect you with the ideal bus rental for your group's size and itinerary—whether that includes a simple ride to the airport or transportation throughout your San Diego travels. We've helped countless clients shuttle corporate flyers to nearby conferences, loved ones to destination wedding festivities, and friend groups in town for ComicCon or sightseeing tours.
Give our 24/7 reservation team a call at 619-209-7804 once you've nailed down your flights and started planning your group trip. We'll be happy to offer a free and personalized quote for your San Diego airport transportation, with no obligation to book!
Do you need to rent a charter bus?